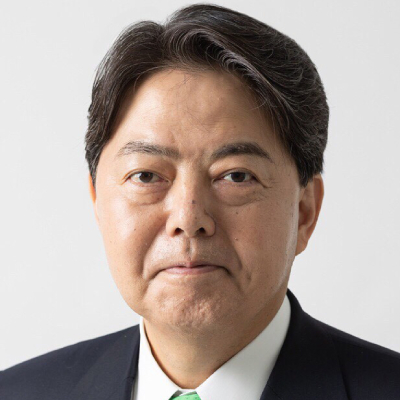 Minister for Foreign Affairs
Ministry of Foreign Affairs of Japan
Hayashi Yoshimasa is the Japanese Minister for Foreign Affairs. He was appointed in November 2021 by Prime Minister Kishida.
Mr. Hayashi has been a steadfast presence in Japanese politics over the past two decades, helping shape Japan's diplomatic, economic and cultural direction. He has served in numerous Cabinet roles, including as the Minister of Defense (Fukuda Cabinet), Minister of State for Economic and Fiscal Policy (Aso Cabinet), Minister of Agriculture, Forestry and Fisheries (Second and Third Abe Cabinet) and the Minister of Education, Culture, Sports, Science and Technology (Third Reshuffled Third and Forth Abe Cabinet).
Upon first winning election to the House of Councilors in 1995, he has since won reelection five times. In 2021, he was elected to the House of Representatives for the first time. A Yamaguchi Prefecture native, he represents the Yamaguchi 3rd Electoral District. He has served on a wide array of committees, including the Committee on Foreign Affairs and Defense, Special Committee on the Trans-Pacific Partnership (TPP) Agreement, Special Committee on IT Strategy, and the Commission on the Constitution.
Before entering politics, Mr. Hayashi worked in the trade and energy sectors. He holds a Bachelor of Laws from the University of Tokyo and a Master of Public Administration from the John F. Kennedy School of Government at Harvard University. During his time at Harvard, he worked as an intern in the late U.S. Senator William Roth's office. There he designed the blueprint for what became the Mike Mansfield Fellowship Program Act, helping usher in a new era of close partnership between Japan and U.S. government officials.
Mr. Hayashi is married to Yuko and has one daughter. He enjoys playing musical instruments such as the guitar and plays golf and tennis.