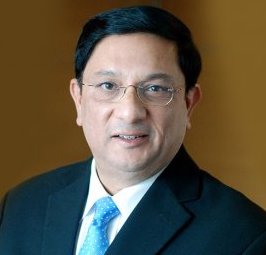 Chairman
Confederation of Indian Industry's National Council on Infrastructure
Vinayak Chatterjee graduated in Economics (Hons) from St. Stephen's College, Delhi University (1976-1979) and did his MBA from the Indian Institute of Management, Ahmedabad (1979 – 1981). He co-founded Feedback Infra in 1990 and served as its Chairman from 1990 to 2021 (www.feedbackinfra.com). Since stepping down from active management, he now devotes his time and energy to Infrastructure Policy and Advocacy; as well as to nurturing educational institutions.
Vinayak Chatterjee has often been called upon to play a strategic advisory role to leading domestic and international corporates, the Government of India, various Ministries dealing with infrastructure, as well as multilateral and bilateral institutions in the areas of infrastructure policy, planning and implementation. He is one of the leading proponents of the Public-Private Partnership (PPP) model for developing India's infrastructure. One of his more recent engagements with the Government of India related to being a Member of the Committee on Setting up a DFI (Development Finance Institution).
In 1998, the World Economic Forum at Davos recognized him as one of the 100 Global Leaders of Tomorrow. In 2011, the Indian Institute of Management, Ahmedabad conferred on him the "Distinguished Alumnus Award".
He is currently the Chairman of the Confederation of Indian Industry's (CII) "National Council on Infrastructure"; and has chaired various Infrastructure and Economic Committees at the national level of CII since 2001.
He is on the Board of Directors of ACC Limited and Apollo Hospitals Enterprise Limited; and is a member of the Advisory Board of JCB India.
He serves as the Chairman of the Board of Governors of Indian Institute of Technology, Dharwad, and on the Boards of Indian Institute of Management, Sirmaur and the National Rail and Transportation Institute, Vadodara.
He is a well-read columnist and writes a monthly column on infrastructure for Business Standard called 'INFRATALK'. He has authored a book titled "Getting it Right – India's Unfolding Infrastructure Agenda" published in 2011.