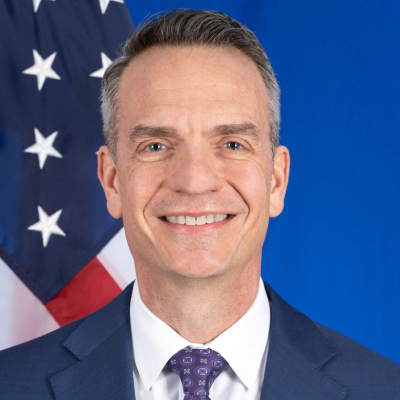 Deputy Assistant Secretary for International Information and Communications Policy, Bureau of Cyberspace and Digital Policy
U.S. Department of State
Steve Lang has been the Deputy Assistant Secretary for International Information and Communications Policy since November 2022. Previously he served as the Minister-Counselor for Economic Affairs at U.S. Embassy Tokyo (2020-2022) and in the Bureau of Economic and Business Affairs' Office of International Communication and Information Policy as Director of both the Office of Multilateral Affairs (2017-2018) and the Office of Bilateral and Regional Affairs (2015-2017).
From 2013 to 2015, Mr. Lang was the Political Counselor at the U.S. Embassy in Mexico City. Previously, he served as Deputy Director of the Office of Chinese and Mongolian Affairs at the Department of State (2011-2013) and as a Senior Analyst in the U.S. Trade Representative's Office of Japan, Korea, and APEC Affairs (2010-2011). Prior tours include the U.S. Consulate-General in Guangzhou, China; the American Institute in Taiwan in Taipei; the Bureau of Western Hemisphere Affairs; the U.S. Embassy in Bangkok; and the U.S. Interests Section in Havana, Cuba.
Before joining the State Department, Mr. Lang worked as an economist for the Department of Labor and is a graduate of Georgetown University.