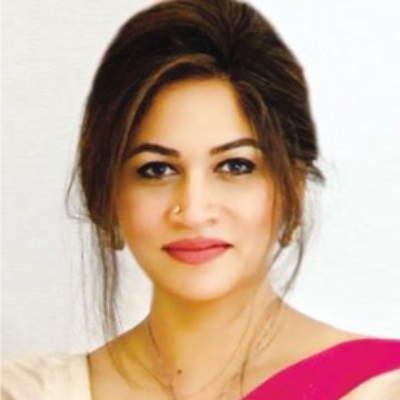 Country Managing Director
Oracle Bangladesh, Nepal and Bhutan
Rubaba Dowla is currently leading Oracle Bangladesh, Nepal and Bhutan as the Country Managing Director. Oracle is one of the largest cloud technology companies in the world, that provides organizations around the world with computing infrastructure and software to help them innovate, unlock efficiencies and become more effective. She is an experienced and accomplished corporate leader, entrepreneur and a strong advocate for women empowerment.
Ms. Dowla has more than 24 years of work experience in the corporate sector, in ICT & telecommunications. She has been instrumental in building Telenor subsidiary Grameenphone as the market leader in telecommunication with more than USD 1 billion in revenue from a startup stage. She has modernized and transformed service portfolio at airtel Bangladesh. She also founded Pulse Healthcare service, a Digital healthcare platform , with the purpose of providing quality healthcare virtually to the citizens of Bangladesh. Pulse provides access to Doctors/ Specialists through video consultation along with -e-diagnosis and e- prescription capabilities.
Ms. Dowla has earned both national and international accolades at corporate and personal level. Some of her successful product innovations have also received World GSMA awards and acclamations. After completing MBA, she completed executive programs at Harvard Business Studies, London Business school and Stockholm School of Economics. She has been instrumental and passionate about empowering women, a strong advocate for women rights and equality. Recognized as top 50 Women in Mobile content by World Telecom, 5 most powerful women in mobile Asia , recipient of Begum Rokeya award, Ananya top 10 women in Bangladesh award, and recipient of South Asian business excellence award for "Outstanding women leadership". She is the past president of TiE Dhaka chapter (largest entrepreneurs' association in the world). She is the Board Director of Marie Stopes Bangladesh (women and children healthcare), Board advisor of WICCI and Bangladesh India Business council, Board Director and sponsor of Jaago foundation (education for underprivileged children), Board Member of Special Olympics Bangladesh and Former President of Bangladesh Badminton Federation (2009-2015). She is an individual with results-driven approach and relentless in pursuit of excellence from a business and organizational standpoint. Believes in inclusiveness , transparency and teamwork.