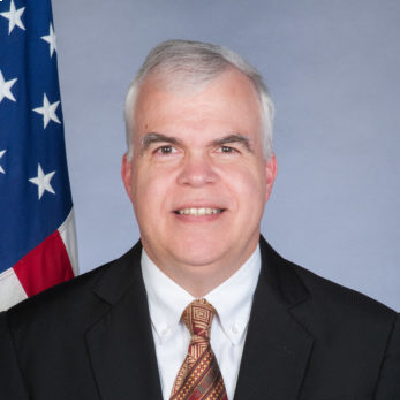 U.S. Ambassador
The Laos People's Democratic Republic
Dr. Peter M. Haymond was sworn in as U.S. Ambassador to Laos on January 3, 2020. Ambassador Haymond previously served as Deputy Chief of Mission and Chargé d'Affaires at the U.S. Embassy in Bangkok, Thailand from July 2016 to August 2019. He has also served as Director of the Office of Chinese and Mongolian Affairs in the State Department's Bureau of East Asian and Pacific Affairs; Consul General at the U.S. Consulate in Chengdu, China; and Deputy Chief of Mission at the U.S. Embassy in Vientiane, Laos.
Among his earlier assignments, Ambassador Haymond served as Division Chief in the Office of Energy and Commodities in the Bureau of Economic and Energy Affairs at the Department of State, and as Arabian Peninsula Officer in the Office of the Counterterrorism Coordinator. He was also Deputy Director of the Office of Economics and Development Affairs in the Bureau of International Organization Affairs. Overseas assignments earlier in his career included the U.S. embassies in China as an economic officer, Laos as a narcotics affairs officer, and Thailand and Korea as a consular officer. Ambassador Haymond worked in Thailand and Morocco before joining the Foreign Service.
Ambassador Haymond earned a B.A. from Brigham Young University in Provo, Utah, and an M.A.L.D. and Ph.D. from The Fletcher School of Law and Diplomacy at Tufts University in Medford, Massachusetts. He speaks Lao, Thai, Mandarin, and some French.