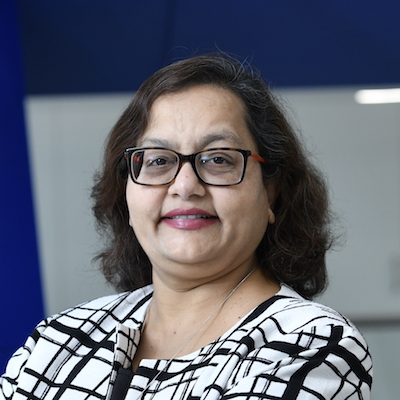 President and India Country Head
Bank of America
Kaku Nakhate is the India country executive for Bank of America and has been on the bank's Asia Pacific Executive Committee since 2010.
With over three decades of experience, Kaku is an industry veteran with deep insights and knowledge of India's growing banking and financial services sector.
Kaku is responsible for building a market-leading franchise in India, overseeing its strategy and direction. In this role, Kaku leverages her international experience, having interacted with many major corporates and financial institutions across major markets, enhancing existing client relationships, developing new clients and building business opportunities for the firm.
Kaku started her career with Merrill Lynch in 1989 and grew through ranks to eventually head the Global Markets business. After Bank of America's global acquisition of Merrill Lynch, Kaku was appointed as the chief executive of the merged entity in the country. She was previously with JP Morgan, India as vice-chairperson in charge of Equities.
In addition to her responsibilities as the chief executive, Kaku is the vice chairperson of National Executive Board of the American Chambers of Commerce (AMCHAM) and is on the Board of Governors of IIM, Ahmedabad. She is also on the India Executive Leadership Board of the US-India Strategic Partnership Forum.
She holds a bachelor's degree in commerce and a masters in Management Studies (Finance) from the University of Mumbai.
Kaku is a passionate advocate of adolescent girls getting access to quality education, skills development and sanitation. Kaku also actively participates in various skill-based volunteering programs at the bank in addition to spending time mentoring numerous NGO leaders.