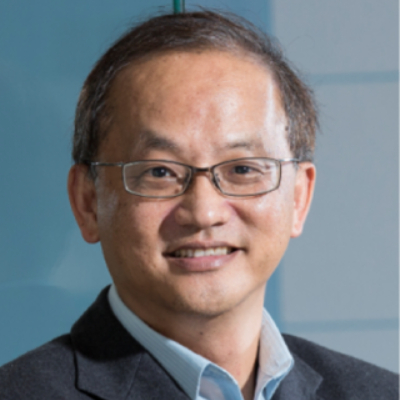 Vice President
General Director of Office of Strategy and R&D Planning
Education
· Ph.D., College of Mechanical and Electrical Engineering, National Taipei University of Technology, Taiwan
· M.S., Dept. of ME, University of Wisconsin-Madison, USA
· B.S., Dept. of ME, National Taiwan University, Taiwan
Experiences
· General Director, Office of Strategy and R&D Planning, ITRI (2015 to Present)
· Member, Taiwan Automotive Research Consortium (TARC) (2016 to Present)
· Chairman, Society of Automotive Engineers Taipei Section (2016-2018)
· President and member, Taiwan Society for Precision Engineering (2015 to Present)
· Secretary General, Chinese Society of Mechanical Engineers (2015-2016)
· Deputy General Director, Mechanical and Systems Research Laboratories, ITRI (2008-2015)
· Division Director, Intelligent Mobility Technology Division, Mechanical and Systems Research Laboratories, ITRI (2003-2008)
· Researcher, Manager and Deputy Division Director, Mechanical and Systems Research Laboratories, ITRI (1982-2002)
· Adjunct Associate Professor, Department of Power Mechanical Engineering, National Tsing Hua University (2012 to Present)
Honors
· National Manager Excellence Award (2014)
· The R&D Contribution Award, MOEA (2012)
· 1st National Innovation Industrial Award, MOEA (2011)
· The Excellent Project Award, MOEA (2002 & 2004)
· Outstanding Mechanical Engineers Award by Chinese Society of Mechanical Engineers (2011)
· Outstanding Mechanical Engineers Award by SAE International Taipei Section (2008)
· Excellent Young Engineers Award by Chinese Institute of Engineers (1997)
Dr. James Wang is the Vice President and General Director of Strategy and R&D Planning Office in Industrial Technology Research Institute (ITRI). James received Ph.D. degree in College of Mechanical & Electrical Engineering of National Taipei University of Technology, and MSc degree in Mechanical Engineering of University of Wisconsin U.S.A. James' current responsibilities include technology R&D strategic planning, advanced research program management, and enabling cross-disciplinary collaboration in ITRI.
James was the Deputy General Director of Mechanical & System Research Laboratories of ITRI during 2011 to 2015 leading and supervising advance vehicle and intelligent mobility technology R&D. James had led RD projects and teams to design, develop and commercialize vehicle powertrains including high efficiency internal combustion engine, hybrid electric and battery electric propulsion systems. James also served academic and industry association positions including the President of SAE International-Taipei Section, Co-Chair of the Energy Conservation Focus Center of National Energy Program-Phase II, General Secretary of the Chinese Society of Mechanical Engineers, Board Director of Mobility Taiwan Automotive Research Consortium, Advisor of Vehicle Electronics Committee of Taiwan Electrical and Electronic Manufacturers' Association, and Adjunct Assistant Professor of National Tsing Hua University,
James had received awards in ITRI and Ministry of Economy Affairs for the outstanding technology research and development achievements. James was honored as the Outstanding Engineer by the Chinese Society of Mechanical Engineers, the Technology Development Contribution Award by the Ministry of Economy Affairs, and the National Management Excellence Award of R&D.