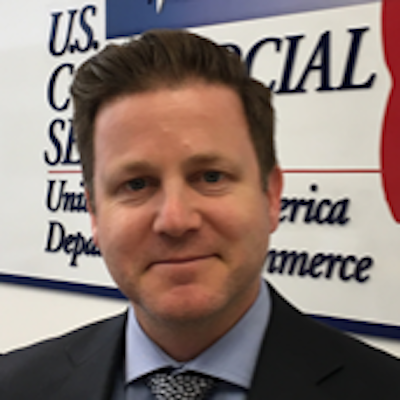 Commercial Counselor
U.S. Embassy, Vietnam
Beginning in July 2021, Charles R. Ranado began serving as the Commercial Counselor at the U.S. Embassy, Hanoi, Vietnam, leading a large Commercial Service team responsible for trade promotion, advocacy, commercial diplomacy and SelectUSA activities across Vietnam.
From 2016 – 2020, Mr. Ranado served as Commercial Counselor at the U.S. Embassy in Warsaw, Poland where in addition to the above responsibilities, he spearheaded numerous projects/initiatives in the energy, smart cities and defense sectors. He was awarded the U.S. Department of Commerce's Silver Medal in October 2019 for his work in advancing the U.S./Poland bilateral energy initiatives.
From 2012-2015, Charles served as Commercial Consul at the U.S. Consulate General in Jeddah, Saudi Arabia where he managed a diverse trade portfolio throughout the Western Provinces, the commercial center of Saudi Arabia. In 2011, Charlie was assigned to the Department's Office of Strategic Partnerships in which he managed the FedEx/Commercial Service alliance. Charlie launched the Commercial Service's (CS) Global Buyers Initiative aimed at identifying active international buyers and introducing them to the U.S. market for their sourcing needs. In 2010, Mr. Ranado served as Senior Commercial Officer in Guatemala where he was the principal commercial advisor to the U.S. Ambassador. His primary responsibility was supporting the President's National Export Initiative by promoting U.S. programs and services aimed at increasing trade between American firms and their Guatemalan counterparts via commercial outreach, advocacy and trade promotion. Prior to his arrival in Guatemala, Charlie completed a four-year tour in Buenos Aires, Argentina serving as Commercial Officer for Argentina and Uruguay - - one of the U.S. Department of Commerce's largest operations in the Western Hemisphere. From 2004 – 2006, Mr. Ranado was a Commercial Officer in Moscow, Russia. Charlie oversaw an extensive portfolio, which included Telecommunications, Agricultural Equipment, and Metals, among others. He also acted as the Trade Development Agency Liaison for CS Russia and had area responsibilities for issues such as International Property Rights and Steel.
Mr. Ranado was the Director of the Rochester, NY Export Assistance Center from 1999 – 2003 and was responsible for managing the daily activities of the office that serviced the nine counties of the Finger Lakes region. Charlie was a member of the Western Hemisphere Team, served on the NAFTA working group and acted as the Country Liaison Officer for Canada. Mr. Ranado started his career with the Department of Commerce in 1996 as an Import Compliance Specialist with ITA's Enforcement and Compliance, office of Antidumping and Countervailing Duties. Charlie worked on numerous antidumping reviews and investigations, mostly concerning steel cases throughout Asia and Europe. Charlie is a 1995 cum laude graduate of the State University of New York at Brockport where he earned a B.S. degree in Political Science. Mr. Ranado is married and has two daughters.