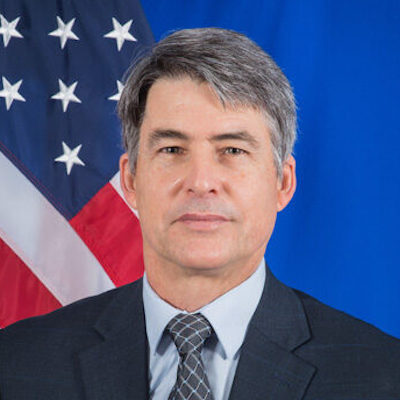 U.S. Ambassador
Malaysia
Brian D. McFeeters has served as U.S. Ambassador to Malaysia since February 26, 2021. A career member of the Senior Foreign Service, Brian previously served as Deputy Chief of Mission of the U.S. Embassy, Baghdad, Iraq, Senior Advisor in the Office of the Counselor to the Secretary of State, and Principal Deputy Assistant Secretary in the State Department's Bureau of Economic and Business Affairs in Washington. Brian has spent half of his 30-year Foreign Service career working on Southeast Asia, including as Deputy Chief of Mission of U.S. Mission Indonesia, as Political Counselor at U.S. Embassy Kuala Lumpur, and as Deputy Director of the State Department's Office of Maritime Southeast Asia.
Mr. McFeeters' other assignments include service as the Economic Minister Counselor of the U.S. Mission to the European Union in Brussels, Belgium and Economic Minister Counselor for U.S. Embassy Baghdad, and Deputy Political Counselor at the U.S. Embassy in Seoul, Republic of Korea. Brian previously served in the U.S. Air Force, attaining the rank of Captain.
Mr. McFeeters was awarded B.A. and B.S. degrees from the University of Notre Dame, an M.S. from the University of New Mexico, and an M.A. from the Johns Hopkins School of Advanced International Studies. His foreign languages are Malaysian, Indonesian, French, Spanish, and German.