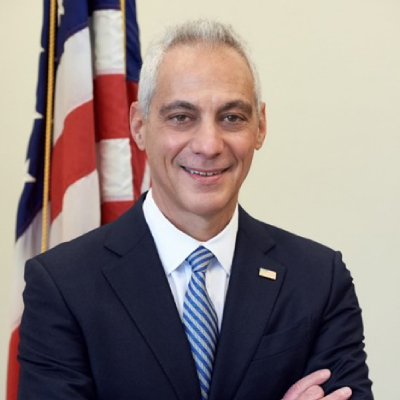 Ambassador
U.S. Embassy in Tokyo
Rahm Emanuel was confirmed in a bipartisan vote as the 31st United States Ambassador to Japan on December 18, 2021. 
Previously, Ambassador Emanuel was the 55th Mayor of the City of Chicago, a position he held until May 2019. During that time, he made the critical choices necessary to secure Chicago's future as a global capital.
As Mayor, the Ambassador added four years to a student's education. He increased the school day by 75 minutes and added more than 200 hours to the school year, marking the largest single increase in educational time by any city and taking Chicago from having the least educational time of any large school district in the country to being on par with its peers. He implemented universal pre-kindergarten and full-day kindergarten for every Chicago child, and made Chicago the first city in America to provide free community college.
The Mayor's comprehensive public safety strategy focused on expanded prevention programs for at-risk youth, smarter policing strategies, and empowering parents and communities to reduce violence. The Ambassador made it a priority to bring global companies to the city, helping Chicago to lead the U.S. in corporate relocations and foreign direct investment for seven consecutive years. His administration invested in infrastructure, public transportation, open space, and cultural attractions. From the $8.5 billion O'Hare International Airport modernization program that is cementing Chicago's status as a global leader in travel, tourism, and trade to the development of the iconic 1.25-mile Chicago Riverwalk, the City's investments are creating thousands of good-paying jobs and making Chicago a better place to live, work, and play.
Prior to becoming Mayor, from November 2008 until October 2010, Ambassador Emanuel served as President Barack Obama's Chief of Staff. In addition to being the President's top advisor, the Ambassador helped the Obama administration secure the passage of the American Recovery and Reinvestment Act of 2009 and the landmark Patient Protection and Affordable Care Act.
Ambassador Emanuel was elected four times as a Member of the U.S. House of Representatives from Illinois's 5th Congressional District (2002-2008). As Chairman of the House Democratic Caucus, Emanuel helped pass legislation to raise the minimum wage and authored the Great Lakes Restoration Act.
From 1993 to 1998, Ambassador Emanuel was a key member of President Bill Clinton's administration, rising to serve as Senior Advisor to the President for Policy and Politics. During this time, Emanuel served as a legislative liaison to Congress and spearheaded efforts to pass several of President Clinton's signature achievements, most notably the Federal Assault Weapons Ban, the Brady Handgun Violence Prevention Act, and the historic Balanced Budget Act, which created the Children's Health Insurance Program that expanded health care coverage to 10 million children. The Ambassador also worked closely with President Joseph R. Biden Jr., then a U.S. Senator, to shepherd the Violence Against Women Act of 1994 through Congress.
As a former Senior Counselor at Centerview Partners and former Managing Director at Wasserstein Perella & Co., Emanuel brings a depth of financial experience to the post.
Ambassador Emanuel graduated from Sarah Lawrence College in 1981 and received a Master's Degree in Speech and Communication from Northwestern University in 1985. He is married to Amy Rule, and they have three children.