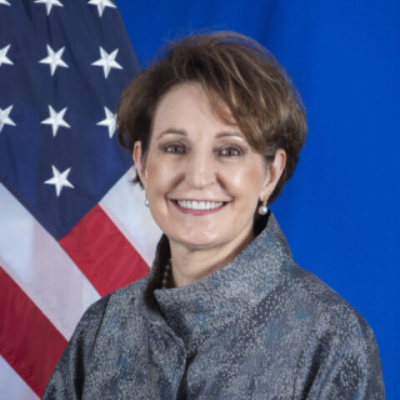 Ambassador
U.S. Embassy in Manilla
Ambassador MaryKay Loss Carlson was nominated by President Biden on February 4 as Ambassador Extraordinary and Plenipotentiary to the Republic of the Philippines. She was confirmed by the Senate on May 5. Ambassador Carlson is a career member of the Senior Foreign Service with the rank of Minister-Counselor.
Ambassador Carlson previously served as the Deputy Chief of Mission and Chargé d'affaires at the U.S. Embassy in Buenos Aires, Argentina. Prior to her assignment to Argentina, she served as Deputy Chief of Mission and Chargé d'affaires in New Delhi, India, and held the position of Principal Deputy Executive Secretary for the Secretary of State in Washington, D.C. A Foreign Service officer since 1985, she has served at U.S. Diplomatic Missions in China (twice), Ukraine, Hong Kong, Mozambique, Kenya, and the Dominican Republic. Her domestic assignments include Director of the Secretary's Executive Secretariat Staff and Deputy Director of Korean Affairs.
A native of Little Rock, Arkansas, Ambassador Carlson received her Bachelor of Arts degree in Spanish and International Studies from Rhodes College in Memphis, Tennessee. She holds Master's Degrees from Georgetown University (International Relations) and the National War College (National Security Studies). She is married to retired Foreign Service officer Aubrey Carlson, and they have two daughters.