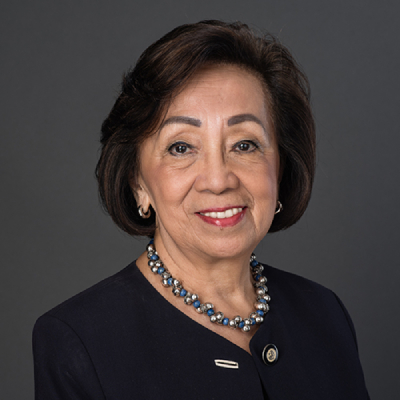 Former Secretary
Ministry of Foreign Affairs of the Philippines
A career diplomat, Ambassador Delia Domingo-Albert is the Philippines' first woman Secretary of Foreign Affairs who served from December 22, 2003, until August 18, 2004. She is also the first woman career diplomat to become Foreign Secretary in ASEAN and the rest of Asia. She began her career in the Department of Foreign Affairs in 1967. She served in various capacities at the Department including as Director-General of the ASEAN National Secretariat of the Philippines (1990-1994), Secretary-General of the Conference Secretariat of the 4th APEC Economic Leaders Meeting (1996), and as Undersecretary for International Economic Relations and Philippine Senior Official for the Asia-Pacific Economic Cooperation (2002).
Ambassador Domingo-Albert's overseas assignments include Switzerland, Romania, and the former German Democratic Republic. Following her term as Secretary of Foreign Affairs, she served as Philippine Ambassador to the Federal Republic of Germany.
Ambassador Domingo-Albert attended the University of the Philippines as well as academic institutions in Europe, namely: the Institute for International Studies in Geneva, Switzerland; the Diplomatic Institute in Salzburg, Austria; Boston University Overseas in Bonn, Germany; the Institute of Political Science and Strategic Studies in Kiel, Germany; and the J.F. Kennedy School of Government at Harvard University. She speaks English, German, French, Romanian, Spanish and Japanese in addition to her national language, Filipino.
Since 2010, Ambassador Domingo-Albert has been Senior Adviser to SGV and CO/ Ernst and Young Philippines.